Odontology
The World Health Organization Regional Office for Europe (WHO EURO) appointed in 1980 UDAC as their first "Competence Center for Medical Informatics." This meant that member states could receive support for their activities in this area. Depending on the type of support it was partially or entirely free.
In 1980 GDR, one of the member states, requested support from UDAC, as the WHO competence center, for GDR activities in the area of non-signal based medical informatics, which was centralized at Medizinische Akademie Dresden (MAD).
After a few years of very fruitful collaboration, MAD and UDAC decided to explore areas in dentistry where the use of IT might be feasible, so as to:
enable desired outcomes that were hitherto impossible
improve the quality of existing procedures
lower the cost of standard current activities
automate purely manual routine activities.
The acting professor of prosthodontics at MADs dental faculty, Ina-Veronika Wagner, was appointed to carry out this investigation in collaboration with Werner Schneider, director of WHO's competence center in Uppsala, UDAC.
Within the framework of this study Wagner identified three high priority areas:
 patient records
decision support for the diagnosis and therapy of oral mucosal disorders
the interpretation of dental radiographs.
It was decided to develop prototypes for computer-based decision support systems for the diagnosis and therapy of oral mucosal disorders and the interpretation of dental radiographs.
After thorough clinical testing, both prototypes were developed into commercial products by  Quintessenz Medien Berlin that still sells them today.
Oral mucosal diseases – external link to Quintessenz Mediengruppe, Berlin

The interpretation of dental radiographs – external link to Quintessenz Mediengruppe, Berlin (in German)
When it came to patient records, the primary aim was to present the content in such a way that the dentist could immediately get an overall picture of the patient's current oral situation against the background of previous history. In addition, the process of updating the records should be simplified and improved.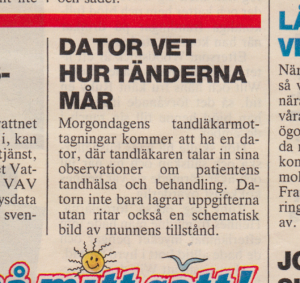 It was decided to develop a prototype system, Zanny, where dentists could, amongst other things, dictate their observations directly into the system.
Zanny, "The Computer Assisted Graphical Patient Record for the Dental Practice" (Video sannolikt från tidigt 90-tal.)
In two subsequent EU R & D projects—ORATEL and ORQUEST—Zanny was developed further and became a product within the framework of the productification of ORQUEST's final results, ORQUEST-All-In-One, i.e. the prototype of a multifunctional digitized dental clinical treatment unit.
This prototype was productified in the early 2000s. Today there are 160 copies of the product installed at the Faculty of Dentistry, University of British Columbia.
LINK: To be activated.